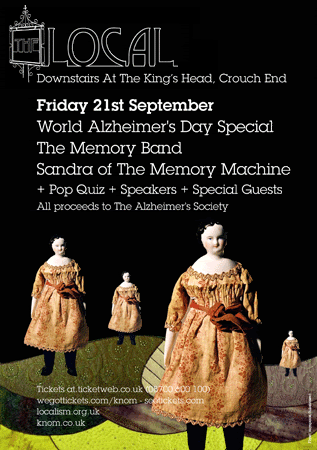 Hi All.
Here's the event I have been putting together. We've got a cracker. Am afraid I cannot include the poster in my message, but if you click the link above you'll see it.
It's lovely!
All the details are below but if there is anything further to add, and there might yet be a surprise or two to add, then the details will be at
www.knom.co.uk
The Memory Band, Sandra of the Memory Machine, more
Fri 21st September 2007, World Alzheimer's Day at The Local
The Local proudly presents a one-off special event in aid of The Alzheimer's Society. On World Alzheimer's Day, you get:
Friday September 21 2007
Downstairs at The Kings Head, Crouch End
London N8
The Memory Band (Live)
www.myspace.com/hungryhill
Pioneers of the Nu Folk movement, The Memory Band have been ploughing their furrow for over 4 years now. The brainchild of band leader Stephen Cracknell, the band is something of an institution where musicians of the day stop off for a while, move on, and come back. Collaborations with Adem, Fourtet, North Sea Radio Orchestra and Tunngs Sam Genders abound, and the list of band members is ever growing: Adem himself, Alexis Taylor (Hot Chip), Simon Lord (Simian, Black Ghosts), Findlay Brown, Howard Monk, Jenny-Mat Logan (Elysian Quartet), and Nancy Wallace are just a few of the names to have appeared with this fantastic band.
Expect lush arrangements of traditional folk songs, among many fine new compositions faithful to the genre.
"One of the coolest bands around" NME (7/10)
"A very poignant and somewhat oddly nostalgic treat" MOJO ****
"It's good to hear an album that reduces you to a blubbing wreck" MIXMAG
"This is a bewitching and brilliant record" DJ Magazine (9/10)
"brims with sinuous, fiddle driven audacity" Chicago Tribune
Sandra of the Memory Machine (Live)
www.myspace.com/sandrathememorymachine
Sandra Marinovich is from Sydney, Australia. Her influences of Eurythmics, Karen Carpenter, Mariah Carey, David Bowie and Talking Heads heavily mesh with her family's Slavic history, observations of those around her and her obsession with vocal melody. ElectroFolk merges with proto-pop. The shows are high energy, raw and rhythmic. The songs are simple and fresh and could live in any genre. The machine is always changing but Sandra accepts the responsibility of ownership, collecting the memories that make songs.
There will be Speakers/ Pop/ Memory Quiz.
All proceeds to The Alzheimer's Society
Tickets are cheaper in advance and are at
www.wegottickets.com/knom
We have 9 signed and framed original prints of local bands to auction off on the night. Bring your cheque books to get your hands on pictures of Pete Doherty, The Holloways, We Smoke Fags, The Charlatans and The Fairies Band. All proceeds to go to Youth for Dementia, the international network of young people working to raise money and awareness of Alzheimer's disease and other forms of dementia. Go to
www.youthfordementia.org
to see what will be on offer. For the young and the young at heart!